Dissemination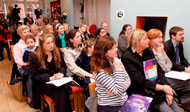 This section is meant to facilitate the sharing of information among partners as far as the dissemination events carried out are concerned.

A description of the event, the number of people participating and the evaluation of the event are available for each dissemination event.
Back to the Dissemination List
click here for the printable version

Partners' Institution:
Confederación de Empresarios de Aragón (CREA)

Name of the person involved in the event:
Olivia del Amo

Date of the event:
09 September 2015 - 09 September 2015

Type of Dissemination event:
Transnational Meetings

Description of Dissemination Event:
CREA presented the School&Work Project at the final meeting of the EWC Project (Effective Writers & Communicators), a Lifelong Learning Project aimed at improving soft skills like effective writing, analysis and communication in English among young SMEs workers and entrepreneurs. 13 people atended the meeting and shared impressions about the School&Work Project. The Project has 10 partners from Greece, Slovakia, The Netherlands, Cyprus, United Kingdom, Poland, Latvia, Belgium, Bulgaria and Spain. http://effectivewriting.eu/

Target group:
Enterprises
Experts
Students
Teachers
Training Agencies
Universities

Number of people reached by event:
13

Held in:
Brighton (United Kingdom)

Outcomes, Results and Evaluation:
Future ways of collaboration (dissemination, provision of information).

Supporting Documents: