Dissemination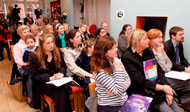 This section is meant to facilitate the sharing of information among partners as far as the dissemination events carried out are concerned.

A description of the event, the number of people participating and the evaluation of the event are available for each dissemination event.
Back to the Dissemination List
click here for the printable version

Partners' Institution:
Lithuanian University of Educational Sciences

Name of the person involved in the event:
Irena Navickiene

Date of the event:
27 January 2016 - 27 January 2016

Type of Dissemination event:
Informative Mailing

Description of Dissemination Event:
Irena Navickiene sent informative e- mails to shools involved into the project , teachers and counsellors, principles of schools providing links to the project portal Video gallery and asking for the feedback after watching them with the students.The e- mail was forwarded to all the entrepreneurs and other people who gave interviews for the project Video gallery. Associated partners were asked to put the links to Video gallery on their institutions' websites.

Target group:
Enterprises
Experts
Public Bodies
Schools
Teachers
Universities

Number of people reached by event:
67

Held in:
Vilnius (Lithuania)

Outcomes, Results and Evaluation:
Teachers and counsellors started using Video gallery interviews at schools..All the comments and testimonials got from teachers and counsellors are very positive.

Supporting Documents: