Dissemination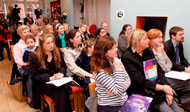 This section is meant to facilitate the sharing of information among partners as far as the dissemination events carried out are concerned.

A description of the event, the number of people participating and the evaluation of the event are available for each dissemination event.
Back to the Dissemination List
click here for the printable version

Partners' Institution:
RENASUP

Name of the person involved in the event:
Jean-Marc Petit and Morgane Uzenat

Date of the event:
02 April 2015

Type of Dissemination event:
National Meeting

Description of Dissemination Event:
A presentation of the project was made to the Academic Director and the project manager of CERFAL Ile-de-France and to the school director of Saint Thomas de Villeneuve.

Target group:
Experts
Schools

Number of people reached by event:
3

Held in:
Paris (France)

Outcomes, Results and Evaluation:
They will participate in the project, comunicating several skills tests and working with RENASUP in the creation of two interactive wizards.

Supporting Documents: