Entrepreneurship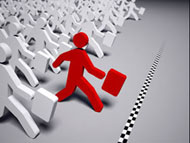 This section provides access to:
- online courses to promote entrepreneurship
- crowdfunding plartforms to fund entrepreneurial ideas in different economic sectors.
The courses and platforms were identified and reviewed by the project experts and should be used by the students with the support of their teachers.
Back to the Crowdfunding Platforms List

Name of the Platform
Grow Ideas

Description:
"Crestem idei is the best way to help achieve all the great ideas that you have or you want to see made in Romania. Crestem idei turn a donation into a reward for you and your community!"

Anyone with creative projects based on ideas or concepts, or use existing ones in innovative ways. The project must generate value for the community, to provide an innovative solution, a new perspective, to contribute to knowledge. Results should be clear, as well as the period of the project.
Projects may come from individuals, groups, formal or informal, non-profit organizations in Romania. We request minimal evidence of previous activities in your chosen field, this is to ensure that there is experience and capacity to implement the proposed project.

The money is paid into the account of the applicant, Crestemidei keeping fee of 7% of the money raised. When completing the campaign objective, the developer will receive the entire amount minus commission for the platform and those retained by third parties that operate payment. The transfer of funds is based on an agreement signed between it and the Association grow ideas.

Web site:

Language of the Platform:
English
Romanian

Initiatives supported:
No profit

Area Covered:
National:

Maximum Duration in days:
90 days

Registration Fee:
It is free to sign up, to create a campaign, and to contribute to a campaign. When the campaign raises funds, Crestem idei charges a 7.0% fee on the funds people raise.