Entrepreneurship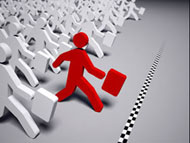 This section provides access to:
- online courses to promote entrepreneurship
- crowdfunding plartforms to fund entrepreneurial ideas in different economic sectors.
The courses and platforms were identified and reviewed by the project experts and should be used by the students with the support of their teachers.
Back to the Crowdfunding Platforms List

Name of the Platform
Kickstarter

Description:
Kickstarter can be used to create all sorts of things: art and gadgets, events and spaces, ideas and experiences. But every project needs a plan for creating something and sharing it with the world. Thousands of creative projects are raising funds on Kickstarter right now. Kickstarter is a platform and a resource. Project creators set a funding goal and deadline. If people like a project, they can pledge money to make it happen. Funding on Kickstarter is all-or-nothing — projects must reach their funding goals to receive any money. If a project is successfully funded, we apply a 5% fee to the funds collected.

Web site:

Language of the Platform:
English

Initiatives supported:
No profit
Profit

Minimum contribution to be requested:
If your project is successfully funded, Kickstarter applies a 5% fee to the total funds raised.

Area Covered:
Worldwide

Maximum Duration in days:
Funding can last anywhere from one to 60 days, but a longer duration is not necessarily better. Statistically, projects lasting 30 days or fewer have our highest success rates.