Entrepreneurship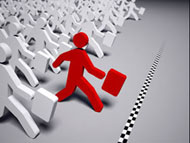 This section provides access to:
- online courses to promote entrepreneurship
- crowdfunding plartforms to fund entrepreneurial ideas in different economic sectors.
The courses and platforms were identified and reviewed by the project experts and should be used by the students with the support of their teachers.
Back to the Crowdfunding Platforms List

Name of the Platform
Invesdor

Description:
Invesdor is a pioneering equity-based crowdfunding platform. It provides an online investment matching service where entrepreneurs looking to raise equity financing can easily connect with investors who are seeking to discover and invest in exciting growth companies.


For companies, rather than being forced to spend valuable time looking around for financing, Invesdor provides an easy-to-use online tool through which a business can promote itself and connect with a large audience of potential investors. Invesdor also gives businesses full discretion over how they raise money, including deciding who can see their investment requirements and who should be able to invest.

For investors, Invesdor enables easy searching and access to a wide range of investment opportunities. You may be a business angel, a stock market investor looking for alternative sources of return or someone who just wants to get in early on the next Angry Birds or Facebook.

Web site:

Language of the Platform:
English

Initiatives supported:
No profit

Area Covered:
Worldwide