Entrepreneurship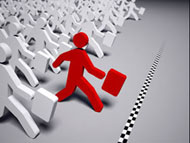 This section provides access to:
- online courses to promote entrepreneurship
- crowdfunding plartforms to fund entrepreneurial ideas in different economic sectors.
The courses and platforms were identified and reviewed by the project experts and should be used by the students with the support of their teachers.
Back to the Crowdfunding Platforms List

Name of the Platform
CroFun

Description:
CroFun is an internet crowdfunding platform offering a commercial and legal framework for professional, social, creative and innovating projects.
With the help of specialists, CroFun supports the project initiator in the creation and positioning of the project on the market. Through this platform, it is possible to combine several forms of crowdfunding.
This platform also allows to launch a project in several languages. Thus, the project can receive international sponsorship.

CroFun offers two types of crowdfunding:
- Flexible funding: the project initiator always receives the money he raised.
- All or nothing: the initiator receives the fund only if they reached 100% of the objective.

Web site:

Language of the Platform:
English
French

Initiatives supported:
No profit
Profit

Minimum contribution to be requested:
€5

Maximum contribution to be requested:
No limitation

Area Covered:
European
Local:
National:
Worldwide

Maximum Duration in days:
90 days

Registration Fee:
Advertisement fee: €181 (VAT included) to upload the project. At the end of all successfully funded projects, a 5% success commission (VAT included) is charged to the initiator. To make the payment, there is an official payment provider, Ogone and Atos Worldline, and the inherent fees are paid by the project initiator. Ogone: - €0.25 (VAT not included) per transaction - Between €0.20% (VAT not included) on the collected capital