Entrepreneurship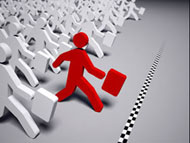 This section provides access to:
- online courses to promote entrepreneurship
- crowdfunding plartforms to fund entrepreneurial ideas in different economic sectors.
The courses and platforms were identified and reviewed by the project experts and should be used by the students with the support of their teachers.
Back to the Online Courses List

Title of Online Course:
Entreprendre Pour Apprendre

Description:
"Entreprendre pour Apprendre" is a member of JA Worlwide network; movement born in United States, in 1919, in order to introduce young people to world of work.

"Entreprendre Pour Apprendre" develops three educational programs, based on the principle of "learning through doing". Tools and programs developed by EPA cater for people of different ages and with different needs.

The three EPA programs are:
- Mini-company EPA: young participants (high school) get to know all steps of the project cycle and life in a company
- EPA Start Up Program allows students (post-graduate) to build and manage together a real company during one school year. They earn from businessman market and strategic studies, business plan, launching, etc.
- Innov' – EPA stimulates young people's awareness of entrepreneurship. During one day, participants work together in order to imagine an ambitious economic project.
- "Notre commune – EPA" is a tool for discovering about economic activities of daily life.

Name of Producer
EPA France

Duration of the online course:
One day to one year

Language of the online course:
French

Web site: