Entrepreneurship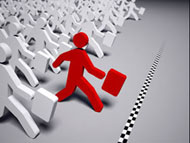 This section provides access to:
- online courses to promote entrepreneurship
- crowdfunding plartforms to fund entrepreneurial ideas in different economic sectors.
The courses and platforms were identified and reviewed by the project experts and should be used by the students with the support of their teachers.
Back to the Online Courses List

Title of Online Course:
IS Game

Description:
IS Game" (serious game) aims to raise managers and students' awareness about the importance of information management and the necessity to implement strategic intelligence into their own structure.
With this tool, it is possible to discover the strategic intelligence through a real company simulation.
In this "game", the participants receive a lot of information, through Web 2.0 channels (monitoring platform, social networks…), about the situation of the fictitious company and its environment. The players are thus confronted in a concrete way to the different SI-related.
The activity of IS Game ends with a structured debriefing, in order to identify the added value of SI and the actions to implement in order to improve one's information management.

Name of Producer
Agence de Stimulation Economique (ASE) de la Fédération Wallonie-Bruxelles

Date of Production:
2015

Duration of the online course:
1 - 3 hours

Language of the online course:
English
French

Web site: