Entrepreneurship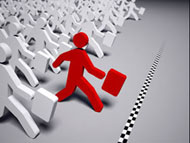 This section provides access to:
- online courses to promote entrepreneurship
- crowdfunding plartforms to fund entrepreneurial ideas in different economic sectors.
The courses and platforms were identified and reviewed by the project experts and should be used by the students with the support of their teachers.
Back to the Online Courses List

Title of Online Course:
Programme Esprit d'Entreprendre

Description:
Le Programme « Esprit d'Entreprendre » vise d'abord les enseignants, meilleurs vecteurs de transmission des attitudes entrepreneuriales chez les jeunes.
Ce programme s'articule autour de 5 dispositifs principaux :
• Une équipe d'Agents de Sensibilisation à l'Esprit d'Entreprendre;
• Un portefeuille d'actions (animations) développant les attitudes entrepreneuriales des jeunes en partenariat avec des partenaires agréés;
• Des appels à projets entrepreneuriaux : des bourses de 400 à 4000 € sont octroyées chaque année en vue de soutenir et de mettre en évidence des projets intégrant le concept de l'Esprit d'Entreprendre dans l'Enseignement et permettant de le diffuser largement ;
• Des formations à destination des enseignants sous le label « Ateliers de l'Esprit d'Entreprendre » organisés régulièrement à travers la Wallonie;
• Des outils pédagogiques by ASE mis à disposition des enseignants et des futurs enseignants.

Pour une année scolaire, ce sont, en moyenne, près de 25.000 étudiants qui sont touchés et près de 2.600 enseignants. Globalement, le taux de pénétration dans les établissements est de 92%.

Après 6 années de programme, l'ASE a réalisé un bilan et propose des perspectives ambitieuses pour les prochaines années dans un dossier intitulé : « 3 axes, 15 leviers pour des générations entreprenantes".

Name of Producer
Agence de Stimulation Economique (ASE) de la Fédération Wallonie-Bruxelles

Date of Production:
Depuis 2009

Duration of the online course:
1 année

Language of the online course:
French

Web site: