Entrepreneurship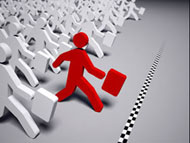 This section provides access to:
- online courses to promote entrepreneurship
- crowdfunding plartforms to fund entrepreneurial ideas in different economic sectors.
The courses and platforms were identified and reviewed by the project experts and should be used by the students with the support of their teachers.
Back to the Online Courses List

Title of Online Course:
Juniors indépendants : vivre la vie d'un indépendant.

Description:
Les stages « Juniors Indépendants » s'adressent aux jeunes de 15 à 20 ans. L'objectif est de leur permettre de se glisser dans la vie d'un indépendant ou d'un entrepreneur, de découvrir les réalités du quotidien d'une petite entreprise. C'est aussi une opportunité de découvrir des métiers qui peuvent s'apprendre via une formation en alternance...
Ces stages sont rémunérés ! Un maximum de 450 euros pour un stage de 10 jours (ou un montant calculé au prorata du nombre de jours prestés).
Les stagiaires sont conseillés et outillés pour appréhender au mieux les réalités du métier et comprendre les diverses facettes de la gestion d'une activité indépendante. Chaque stagiaire reçoit un « carnet de route » dans lequel il doit noter ses observations tout au long du stage.

Name of Producer
Centres de formation du réseau IFAPME (Institut wallon de formation en alternance, des indépendants et petites et moyennes entreprises)

Date of Production:
2007

Duration of the online course:
10 jours

Language of the online course:
English
French
Spanish

Web site: