Entrepreneurship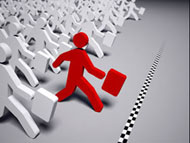 This section provides access to:
- online courses to promote entrepreneurship
- crowdfunding plartforms to fund entrepreneurial ideas in different economic sectors.
The courses and platforms were identified and reviewed by the project experts and should be used by the students with the support of their teachers.
Back to the Online Courses List

Title of Online Course:
Programa de miniempresas

Description:
Programme aimed at students from 16 to 19 years old willing to create a small company. Under the motto "learning by doing", the programme is embeded into the academic year (e.g. Economy subject) and consists on practical lessons and the creation of a company.

Students must choose its management board, the product/service to be sold/distributed, make the product by teams, develop a marketing strategy and perform the sale of the product. They are also audited, they run the accounting, pay wages and fees, etc.

Teachers monitor students' projects and their evolution, with the help of volunteers from the business sector that give face to face and online advice to students.

Name of Producer
Junior Achievement

Date of Production:
Yearly

Duration of the online course:
15 weeks

Language of the online course:
Spanish

Web site: