Entrepreneurship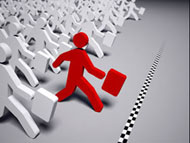 This section provides access to:
- online courses to promote entrepreneurship
- crowdfunding plartforms to fund entrepreneurial ideas in different economic sectors.
The courses and platforms were identified and reviewed by the project experts and should be used by the students with the support of their teachers.
Back to the Online Courses List

Title of Online Course:
Gestión de un plan de negocio – Management of a business plan

Description:
The course analyses the contents of a business plan. Aspects such as: Executive summary, business description, market survey, sales and marketing plan, operations plan. All the key components of the business plan are analysed in a simple and graphic way.

Course contents:
- Company description
- Marketing Plan
- Operations and Logistic Plan
- Organization and Human Resources Plan
- Economic and Financial Plan
- SWOT analysis
- Risks analysis

Each chapter finishes with an evaluation test.

The Directorate General of Industry and Small and Medium Enterprise (DGIPYME) offers this on-line training course in cooperation with Escuela de Organización Industrial (EOI). The course is free of charge and has been developed by EOI and co-financed by DGIPYME and the European Union.

The course is not assisted by a tutor.

Name of Producer
Escuela de Organización Industrial (EOI)

Date of Production:
2015

Duration of the online course:
2 -5 hours

Language of the online course:
Spanish

Web site: