Entrepreneurship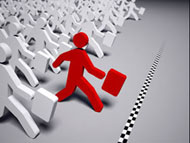 This section provides access to:
- online courses to promote entrepreneurship
- crowdfunding plartforms to fund entrepreneurial ideas in different economic sectors.
The courses and platforms were identified and reviewed by the project experts and should be used by the students with the support of their teachers.
Back to the Online Courses List

Title of Online Course:
Establishing values for your business

Description:
The values and culture of your company have a direct effect on your employees, customers and ultimately your bottom line. What are you doing to establish, cultivate and grow this precious commodity? This course will introduce you to the processes of implementing company values for your company by including input from stakeholders and customers. Learn about the steps in the planning process, potential problems you may face, and how to implement your company's values using a strategic plan.

Name of Producer
SBA Learning Center

Date of Production:
2014

Duration of the online course:
30 minutes

Language of the online course:
English

Web site: