Skills Tests

These tests assess the students' skills.

These tests, identified and reviewed by the project experts, should be used by teachers and school counsellors to support students in the identification of their skills.
A skill is a learned ability to carry out a task.

Title of Test:
Test psicotécnico: Cálculo numérico

Image: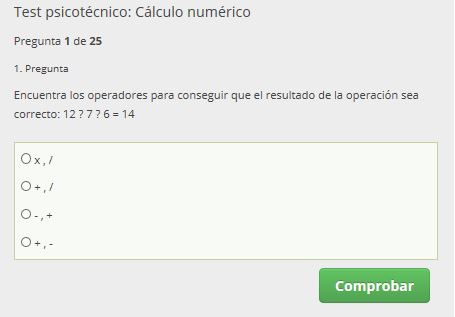 Skills Addressed:
Mathematical literacy and basic competences in science and technology

Website of the Test

Language/s of the tool:
Spanish

Description:
The test consists of 25 questions in which different mathematical operations must be performed. The test is timed but only as indicative information. At the end of the test, the result is given as a percentage of correct answers and the correct answers can be checked.

Tags or Key Words:
Numerical

Translation of the test:

Partners' Institution:
Confederación de Empresarios de Aragón (CREA)