Associated Partners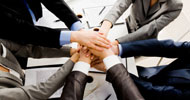 As a result of the exploitation activity a number of associated partners officially joined the project in order to contribute to the improvement of the project impact on their target groups and to ensure the project sustainability by continuing using the project deliverables in the next years.

The associate partners of the School&Work project are organizations interested in the prevention of early school leaving. All associated partners share the project objectives and are willing to contribute to their achievement.

Institutions and organisations interested in becoming associated partners of the School&Work project can contact the national coordinators of the project.
Back to the Associated Partners
NAME OF THE ORGANISATION
Education Development Centre
TYPE OF INSTITUTION
Public Body
ADDRESS
M. Katkaus str. 44
NAME OF CONTACT PERSON
Edita Sedereviciute
BRIEF DESCRIPTION OF THE ORGANISATION
Ugdymo pletotes centras (Education Development Centre) is a national-wide state agency acting under the Ministry of Education and Science which provides educational support for students, teachers and schools.
Aims of Educational Development Centre are the following:
• Formation of general and non-formal children education curriculum which corresponds to the needs of society;
• Initiation, creation and implementation of innovations in the field of general and non-formal children education;
• Initiation and implementation of quality assurance activities for general and non-formal children education.
The functions of Education Development Centre consist of developing and coordinating the system of continuous professional development and in-service training of teachers; evaluating and accrediting in-service teachers' training institutions and programs; developing general curriculum framework, coordinating its adaptation to the needs of various needs of the learners; developing educational tools, resources and recommendation for general school and non-formal children education; evaluating textbooks and educational tools; drafting proposals for development and implementation of education quality assurance tools; providing counseling and support for education community and other stakeholders etc.
HOW THE ORGANISATION WILL CONTRIBUTE TO THE DISSEMINATION AND EXPLOITATION OF THE PROJECT RESULTS
The Education Development Centre will contribute to the project activities dissemination and exploitation of the project results via their networks, informing their partners (schools in Lithuania), and updating information on their website.