Associated Partners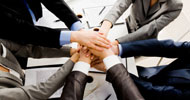 As a result of the exploitation activity a number of associated partners officially joined the project in order to contribute to the improvement of the project impact on their target groups and to ensure the project sustainability by continuing using the project deliverables in the next years.

The associate partners of the School&Work project are organizations interested in the prevention of early school leaving. All associated partners share the project objectives and are willing to contribute to their achievement.

Institutions and organisations interested in becoming associated partners of the School&Work project can contact the national coordinators of the project.
Back to the Associated Partners
NAME OF THE ORGANISATION
Ministry of Education and Science of the Republic of Lithuania
TYPE OF INSTITUTION
Public Authority
NAME OF CONTACT PERSON
Mečislavas Griškevičius
BRIEF DESCRIPTION OF THE ORGANISATION
The Ministry of education and science of the Republic of Lithuania implements the national system of formal and non - formal education, the state policy of science and studies in accordance with the Law on science and studies and other legal acts. It coordinates the activity of Lithuanian institutions of science and studies.
HOW THE ORGANISATION WILL CONTRIBUTE TO THE DISSEMINATION AND EXPLOITATION OF THE PROJECT RESULTS
The Ministry of education and science of the Republic of Lithuania will disseminate the information about the project " School and work" activities and results in the national and international networks. It will contribute to exploitation and sustainability of the project results.