Associated Partners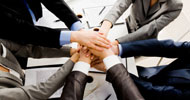 As a result of the exploitation activity a number of associated partners officially joined the project in order to contribute to the improvement of the project impact on their target groups and to ensure the project sustainability by continuing using the project deliverables in the next years.

The associate partners of the School&Work project are organizations interested in the prevention of early school leaving. All associated partners share the project objectives and are willing to contribute to their achievement.

Institutions and organisations interested in becoming associated partners of the School&Work project can contact the national coordinators of the project.
Back to the Associated Partners
NAME OF THE ORGANISATION
Kaunas Chamber of Commerce, Industry and Crafts
TYPE OF INSTITUTION
No Profit Organisation
ADDRESS
K.Donelaicio str. 8, Kaunas, 44213
NAME OF CONTACT PERSON
Aušra Giedrienė
BRIEF DESCRIPTION OF THE ORGANISATION
Kaunas Chamber of CIC as a non - governmental and a non - profit seeking organization is one of the five chambers of commerce in Lithuania, operating in Kaunas and Marijampolė regions. Based on private law with its main goal in supporting the development of companies' economic activity and representing, and defending the interests of business community. The community is comprised of various businesses, educational, scientific, and high technology development institutions.
The President of the Chamber is Benjaminas Žemaitis (Novameta, UAB). Dr.V.Šileikis is the General Director of the Chamber.
Kaunas CCIC has a long standing reputation for best practices in providing information and consulting services to entrepreneurs. Seeking to achieve its strategic objectives, Kaunas CCIC has developed a work programme, involving concrete activities and initiatives aimed at improving the business environment in Kaunas region, attracting new investments, promoting export and consulting Lithuanian companies in entering European and world markets, improving labor market conditions, enhancing competitiveness of the regional businesses.
Being a member of international business organizations such as Eurochambres, Baltic Sea Chambers of Commerce Association (BCCA), Association of GS1, ICC (ATA Carnet system), Kaunas Chamber of CIC provides services that meet global standards both in quality and the level of representation.
The Chamber's activity encourages the development of economic cooperation with other countries and cooperates both with Lithuanian diplomatic representatives abroad and foreign embassies in Lithuania.
The Chamber is much preferred by European organizations as a partner on joint projects in business cooperation, and training activities and seminars, targeting entrepreneurs.
HOW THE ORGANISATION WILL CONTRIBUTE TO THE DISSEMINATION AND EXPLOITATION OF THE PROJECT RESULTS
Chamber will contribute to the project in dissemination activities, particularly on the website www.chamber.lt Chamber will promote the project activities to its network of contacts, help to the project partners actively communicate with stakeholders, especially with employers of business companies.