Associated Partners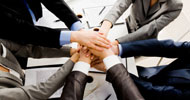 As a result of the exploitation activity a number of associated partners officially joined the project in order to contribute to the improvement of the project impact on their target groups and to ensure the project sustainability by continuing using the project deliverables in the next years.

The associate partners of the School&Work project are organizations interested in the prevention of early school leaving. All associated partners share the project objectives and are willing to contribute to their achievement.

Institutions and organisations interested in becoming associated partners of the School&Work project can contact the national coordinators of the project.
Back to the Associated Partners
NAME OF THE ORGANISATION
AICQ-TL (Associazione Italiana Cultura Qualità Tosco Ligure)
TYPE OF INSTITUTION
No profit association
ADDRESS
P.za S. Ambrogio, snc
NAME OF CONTACT PERSON
Ettore La Volpe
BRIEF DESCRIPTION OF THE ORGANISATION
Develop culture of quality and management systems: environment, safety, social accountability.
In this contest: set up meetings, training of auditors, release of magazine "Quality".
HOW THE ORGANISATION WILL CONTRIBUTE TO THE DISSEMINATION AND EXPLOITATION OF THE PROJECT RESULTS
AICQ will contribute to promotion if the information through network contacts with, enterprises, partners, public administration and other public stakeholders.