Associated Partners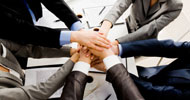 As a result of the exploitation activity a number of associated partners officially joined the project in order to contribute to the improvement of the project impact on their target groups and to ensure the project sustainability by continuing using the project deliverables in the next years.

The associate partners of the School&Work project are organizations interested in the prevention of early school leaving. All associated partners share the project objectives and are willing to contribute to their achievement.

Institutions and organisations interested in becoming associated partners of the School&Work project can contact the national coordinators of the project.
Back to the Associated Partners
NAME OF THE ORGANISATION
Cité des Métiers de Liège
TYPE OF INSTITUTION
No Profit Association
ADDRESS
Rue Sainte-Marie 5/8 - 4000 Liège
NAME OF CONTACT PERSON
Christine Cambresy
BRIEF DESCRIPTION OF THE ORGANISATION
"Cité des Métiers de Liège" will propose from 2018 a 3000 square meter surface to actively find lifelong guidance. Three complementary, indivisible and consistent spaces that offer concrete information about careers and training path, for a large range of users. Currently, "Cité des Métiers de Liège", which is still in development, already proposes activities.
HOW THE ORGANISATION WILL CONTRIBUTE TO THE DISSEMINATION AND EXPLOITATION OF THE PROJECT RESULTS
Will organise in cooperation with Inforef one event in June 2016 about how to concretely make education and enterprises closer (final S&W event).