Project Description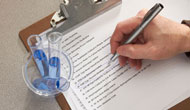 This section presents the main information about the School&Work project

Context
Trough Europe 2020 strategy, the European Union plans to better support young people to develop their talents in order to be competitive in the labour market.

Objectives
European Commission financed the School&Work project in the framework of the Erasmus+ Programme with the aim to prevent early school leaving and facilitate the students' entrance in the labor market.

Target Groups
The project is addressed to:
Schools
Teachers
School Counsellors
Students

Intellectual output
The intellectual outputs are:
Toolkit "Identification of Students' Potentials" including:
Online database of tools aptitude tests
Online database of skills tests
12 interactive wizard tests to guide the counsellors and teacher in unveiling the students abilities and inclinations
Toolkit "Skills to Succeed in the Job Market" including:
Online database of job profiles
Online database of skills to succeed in the job market
Online database of learning object to promote entrepreneurial spirit among students
Video Gallery of Testimonials on the Importance of School Education including:
Online collection of interviews with successful entrepreneurs
Online collection of interviews with successful employees
Online collection of interviews with VIP
Training Course
The aim of the e-learning package is to provide school counsellors and teachers with the competences to deal with students at risk of early school leaving.