Work in Progress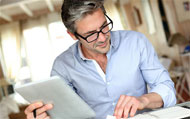 This section allows a constant communication and sharing of information among the project partners as far as the activities for the different intellectual outputs are concerned.

Each project partner upload this section of a three months basis.
Back to the Work in Progress List
click here for the printable version

Partners' Institution:
RENASUP

Project's period (from/to):
01 September 2014 - 31 August 2016

Activity concerned:
TA 3 - Exploitation

Objectives of activities carried out:
The project partners will be committed to carry out activities in order to promote the project sustainability. A sustainability plan will be adopted among the consortium aiming to:
• Promote the Portal through the exchange links with Portals addressing similar issues (e.g. Portals providing educational materials for teachers; portals containing job offers etc.)
• Promote the among public authorities and key policy makers in order to gain institutional consensus and promoting the insertion of project results in policies for Education.
• Involve new members as associated partners

Description of activities carried out:
- Links on the social network, thanks to the partnership of SYNADIC.
- RENAPEC published an article about School & Work aims.