Dissemination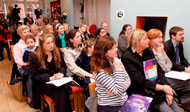 This section is meant to facilitate the sharing of information among partners as far as the dissemination events carried out are concerned.

A description of the event, the number of people participating and the evaluation of the event are available for each dissemination event.
Back to the Dissemination List
click here for the printable version

Partners' Institution:
Confederación de Empresarios de Aragón (CREA)

Name of the person involved in the event:
Olivia del Amo

Date of the event:
29 June 2015 - 29 June 2015

Type of Dissemination event:
Informative Mailing

Description of Dissemination Event:
Mail to inform the Regional Development Agency of Aragon about the School&Work Project. This agency, depending on the regional government, is in charge of the development of programme Entrepreneurship at school (Emprender en la escuela), a learning object to support students for setting up their own company at school. They also manage the online platform Aragón Emprendedor.

Target group:
Enterprises
Experts
Public Bodies

Held in:
Zaragoza (Spain)

Outcomes, Results and Evaluation:
The agency provided CREA with information about the programme Emprender en la Escuela, and also, included a link to the School&Work website from the online platform Aragón Emprendedor.

Supporting Documents: