Dissemination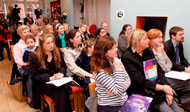 This section is meant to facilitate the sharing of information among partners as far as the dissemination events carried out are concerned.

A description of the event, the number of people participating and the evaluation of the event are available for each dissemination event.
Back to the Dissemination List
click here for the printable version

Partners' Institution:
Lithuanian University of Educational Sciences

Name of the person involved in the event:
Irena Navickiene sent 2 informative mails to all the teachers and counsellors involved into the project.

Date of the event:
02 November 2015 - 09 December 2015

Type of Dissemination event:
Informative Mailing

Description of Dissemination Event:
In the informative e- mails to the teachers and counsellors there was the information about the development of the Toolkit 2 and request to submit the evaluation questionnaires to the coordinator of the project.

Target group:
Researchers
Schools
Students
Teachers

Number of people reached by event:
50

Held in:
Vilnius, kaunas, Siauliai, Trakai (Lithuania)

Outcomes, Results and Evaluation:
The information reached all the schools involved into the project and the questionnaires were got on time for the preparation of the evaluation report.

Supporting Documents: