Dissemination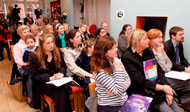 This section is meant to facilitate the sharing of information among partners as far as the dissemination events carried out are concerned.

A description of the event, the number of people participating and the evaluation of the event are available for each dissemination event.
Back to the Dissemination List
click here for the printable version

Partners' Institution:
Lithuanian University of Educational Sciences

Name of the person involved in the event:
Irena Navickiene sent informative e- mails to the Associated partners ( directors and IT specialists) aking to disseminate the information about the Toolkit 2 and Toolkit 3 on the websites of the institutions, to upload the information about on going activity - interviewing succesful employees visit the portal section " Skills and Jobs" and to send back screenshots with the links to their websites.

Date of the event:
10 September 2015 - 10 October 2015

Type of Dissemination event:
Informative Mailing

Description of Dissemination Event:
The associated partners uploaded the news about the project activities , sent screenshots and links of their websites to the project coordinator.

Target group:
Enterprises
Experts
Public Bodies

Number of people reached by event:
8

Held in:
Vilnius, Kaunas (Lithuania)

Outcomes, Results and Evaluation:
The news about the development of Toolkit 2 and Toolkit 3 were uploaded on the websites of the Associated partners, the screenshots and links were sent to the project coordinator.

Supporting Documents: