Dissemination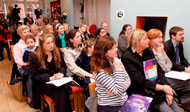 This section is meant to facilitate the sharing of information among partners as far as the dissemination events carried out are concerned.

A description of the event, the number of people participating and the evaluation of the event are available for each dissemination event.
Back to the Dissemination List
click here for the printable version

Partners' Institution:
Confederación de Empresarios de Aragón (CREA)

Date of the event:
08 February 2016 - 08 February 2016

Type of Dissemination event:
News in a news paper

Description of Dissemination Event:
"Finanzas" is an economic newspaper that has published in its online version a news about School & Work Project. The news contains information about the efforts made by the European Commission to prevent early school leaving and introduces the School&Work Project as a tool to fight against this situation. The news makes a sumary of the Project and its main results as the interviews, and the partners´ meeting.

Target group:
General Public

Held in:
(Spain)

Outcomes, Results and Evaluation:
http://www.finanzas.com/noticias/economia/20160208/empresarios-profesionales-aragoneses-unen-3344736.html

Supporting Documents: