Dissemination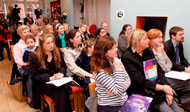 This section is meant to facilitate the sharing of information among partners as far as the dissemination events carried out are concerned.

A description of the event, the number of people participating and the evaluation of the event are available for each dissemination event.
Back to the Dissemination List
click here for the printable version

Partners' Institution:
Fundația EuroEd

Name of the person involved in the event:
Andreea Ionel

Date of the event:
05 July 2016

Type of Dissemination event:
Online Dissemination

Description of Dissemination Event:
Post on didactic.ro Didactic.ro is an online community for teachers, parents and students. It was founded in 2006 and it has over 80.000 members. On the official didactic.ro website it was posted a message with the brief description of the S&W Project and with a direct link to the Portal, to the training and to the Video Gallery sections.

Target group:
Enterprises
Experts
General Public
Public Bodies
Researchers
Schools
Students
Teachers
Training Agencies
Universities
Association

Held in:
Online ()

Outcomes, Results and Evaluation:
Print Screen

Supporting Documents: