Entrepreneurship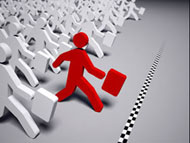 This section provides access to:
- online courses to promote entrepreneurship
- crowdfunding plartforms to fund entrepreneurial ideas in different economic sectors.
The courses and platforms were identified and reviewed by the project experts and should be used by the students with the support of their teachers.
Back to the Crowdfunding Platforms List

Name of the Platform
CroFun

Description:
CroFun est une plate-forme de crowdfunding basée sur internet, offrant un cadre commercial et juridique pour les projets professionnels, sociaux, créatifs et innovants.
Avec l'aide de nombreux spécialistes, CroFun encadre le porteur de projet dans l'élaboration et le positionnement de son projet sur le marché.
Via cette plateforme, il est possible de combiner différentes formes de crowdfunding.
Cette plateforme permet également de lancer son projet en plusieurs langues. Ainsi, un projet peut être sponsorisé au niveau international.
CroFun offre deux types de crowdfunding pour lever des fonds :
• Financement flexible : dans ce type de projet, le porteur de projet reçoit toujours l'argent qu'il a levé.
• Tout ou rien : dans ce type de projet, le porteur de projet ne reçoit les fonds levés que si l'objectif de son projet est atteint à 100%.

Web site:

Language of the Platform:
English
French

Initiatives supported:
No profit
Profit

Minimum contribution to be requested:
5€

Maximum contribution to be requested:
Pas de limitation. C'est le porteur de projet qui fixe le montant recherché.

Area Covered:
European
Local:
National:
Worldwide

Maximum Duration in days:
90 jours

Registration Fee:
Frais de publicité de 181€ (TVAC) pour mettre un projet en ligne. A la fin de tous les projets financés avec succès, une commission de succès de 5% (TVAC) sera facturée au donneur de projet. Pour pouvoir effectuer les paiements, il est fait recours à un prestataire de paiement officiel, Ogone et Atos Worldline, et les frais inhérents sont payés par le porteur de projet. Ogone: - 0,25€ (ex. TVA) par transaction - Entre 0,80% et 2,5% (ex. TVA) sur le capital collecté