Entrepreneurship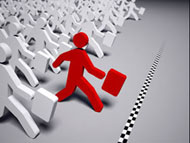 This section provides access to:
- online courses to promote entrepreneurship
- crowdfunding plartforms to fund entrepreneurial ideas in different economic sectors.
The courses and platforms were identified and reviewed by the project experts and should be used by the students with the support of their teachers.
Back to the Crowdfunding Platforms List

Name of the Platform
MyMicroInvest

Description:
Cette plateforme permet aux particuliers d'investir dans des entreprises européennes innovantes. Elle leur offre la possibilité de participer au succès des entreprises de leur choix. Grâce à cette plateforme, l'épargne peut nourrir l'économie et la création d'emplois.
MyMicroInvest pratique deux types de financement :
- Le prêt : La foule (crowd) prêtera de l'argent à un entrepreneur et bénéficiera d'un intérêt prédéfini qui sera versé de manière régulière.
- Le financement participatif en capital : L'entrepreneur offre une prise de participation sous forme de parts (actions) dans sa société. Les investisseurs deviennent alors actionnaires et bénéficieront d'une possible plus-value lorsqu'ils revendront leurs parts. La plupart des projets sont financés de cette façon via MyMicroInvest.
MyMicroinvest ne finance que des sociétés constituées ou en constitution.
Procédure :
1. Les projets sont soumis à l'approbation du public (notamment la communauté MyMicroInvest qui compte plus de 24.000 membres) en vue de valider l'intérêt dans le projet.
2. MyMicroInvest sélectionne les meilleurs projets validés par le public et pour lesquels les exigences légales et contractuelles sont remplies.
3. Le public peut investir dans un ou plusieurs projets validés à partir de 100€.
4. Si le projet est financé à 100% ou plus : l'investissement est réalisé par MyMicroInvest Finance.
5. Si le projet n'est pas financé à 100% : l'investisseur est remboursé.

Web site:

Language of the Platform:
English
French

Initiatives supported:
Profit

Minimum contribution to be requested:
100€

Maximum contribution to be requested:
Pas de limitation

Area Covered:
European

Maximum Duration in days:
+/- 60 jours