Entrepreneurship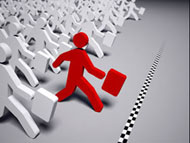 This section provides access to:
- online courses to promote entrepreneurship
- crowdfunding plartforms to fund entrepreneurial ideas in different economic sectors.
The courses and platforms were identified and reviewed by the project experts and should be used by the students with the support of their teachers.
Back to the Crowdfunding Platforms List

Name of the Platform
MyMicroInvest

Description:
This platform allows individuals to invest in innovative European companies. It offers the possibility to participate in the success of their chosen company. Thanks to this platform, savings can contribute to the economy and job creation.
- Loan: the crowd lends money to an entrepreneur and benefits from premade interest transferred on a regular basis.
- Capital crowdfunding: the entrepreneur offers a possibility to participate through shares in the company. Investors become stakeholders and may receive capital gain when they sell their shares. Most projects on MyMicroInvest are funded this way.
MyMicroInvest only funds constituted companies and companies being constituted.
Process:
1. Projects are submitted to public approval (including the MyMicroInvest community of 24,000 members) in order to validate interest in the project.
2. MyMicroInvest selects the best projects validated by the public and for which legal and contractual requirements are fulfilled.
3. The public can invest a minimum of €100 in one or several projects validated.
4. If the project is 100% funded (or more): investment is made by MyMicroInvest Finance.
5. If it is not, the contributors are reimbursed.

Web site:

Language of the Platform:
English
French

Initiatives supported:
Profit

Minimum contribution to be requested:
€100

Maximum contribution to be requested:
No limitation

Area Covered:
European

Maximum Duration in days:
+/- 60 days