Entrepreneurship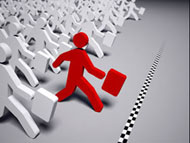 This section provides access to:
- online courses to promote entrepreneurship
- crowdfunding plartforms to fund entrepreneurial ideas in different economic sectors.
The courses and platforms were identified and reviewed by the project experts and should be used by the students with the support of their teachers.
Back to the Crowdfunding Platforms List

Name of the Platform
My Major Company

Description:
My Major Company is a crowdfunding platform which allows users to introduce their projects to millions of Internet surfers. It includes about 15 employees, located in Paris. Since the launch, the platform has recorded approximately 13 millions EUR and the participation of 340 000 members.

Since 2007, My Major Company has been an independant label. In hard times for the music industry, is co-funders began enrolling internet users in financing young artists. In 2012, the company broadened its business model to include cinema, publishing, video games, arts, and entrepreneurship. At this time, it funds plenty of new commercial areas, such as fashion, nature, sports, etc.

Web site:

Language of the Platform:
French

Initiatives supported:
No profit
Profit

Minimum contribution to be requested:
100

Maximum contribution to be requested:
20 000

Area Covered:
National:

Maximum Duration in days:
90 days