Entrepreneurship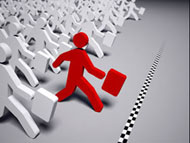 This section provides access to:
- online courses to promote entrepreneurship
- crowdfunding plartforms to fund entrepreneurial ideas in different economic sectors.
The courses and platforms were identified and reviewed by the project experts and should be used by the students with the support of their teachers.
Back to the Crowdfunding Platforms List

Name of the Platform
Notre Petite Entreprise

Description:
"Notre Petite Entreprise" is a crowdfunding platform, created by BGE (first national network assisting company creation in France) and My Major Company (national leader for crowdfunding), which is dedicated to supporting the creation and growth of business. BGE and My Major Company have united their expertise to provide entrepreneurs with access to a new way of funding.

Its aim is to allow business entrepreneurs to present their ideas and find funding from internet users.

Web site:

Language of the Platform:
French

Initiatives supported:
No profit
Profit

Minimum contribution to be requested:
100

Maximum contribution to be requested:
20 000

Area Covered:
National:

Maximum Duration in days:
90 days

Registration Fee:
The project musts convinced at least 5 contributors and collects 100€ to be recommended by BGE.