Entrepreneurship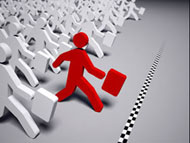 This section provides access to:
- online courses to promote entrepreneurship
- crowdfunding plartforms to fund entrepreneurial ideas in different economic sectors.
The courses and platforms were identified and reviewed by the project experts and should be used by the students with the support of their teachers.
Back to the Online Courses List

Title of Online Course:
Juniors indépendants : vivre la vie d'un indépendant. Junior freelancers: living the life of a freelancer

Description:
"Juniors Indépendants" internships are addressed to 15-20 year old people. The aim is to let them experience the life of a freelancer or an entrepreneur, to discover the daily life of a small company. It is also an opportunity to discover jobs that can be learnt in sandwich courses...
Those internships are remunerated! Up to 450 euros for a 10 day internship (or a figure calculated proportionally to the number of work days).
The interns receive advice and tools to better grasp the reality of the job and understand the various sides of a freelance activity. Every intern receives a "log book" in which they write observations all along the internship.

Note: this is not an online course.

Name of Producer
Training centres of the IFAPME network (Institut wallon de formation en alternance, des indépendants et petites et moyennes entreprises – Walloon alternate training, freelancer and small and medium-sized enterprises Institute)

Date of Production:
2007

Duration of the online course:
10 days

Language of the online course:
English
French

Web site: