Entrepreneurship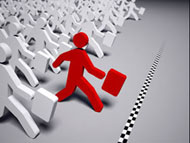 This section provides access to:
- online courses to promote entrepreneurship
- crowdfunding plartforms to fund entrepreneurial ideas in different economic sectors.
The courses and platforms were identified and reviewed by the project experts and should be used by the students with the support of their teachers.
Back to the Online Courses List

Title of Online Course:
Effective business websites

Description:
This course supports in building a website that effectively meets business goals and it suggests you some useful web tool in order to create a website. The course is divided into seven sections:
- Start: In this section there is a brief course overview and the reason why it will benefit your business
- Story: Here you can see a brief story of an entrepreneur dealing with a typical small business challenge
- Business concept: this section teaches how to create a user-friendly website to meet one's goals efficiently reaching one's target audience
- Technology skills: this section teaches how to use an online programme to create websites
- Course discussion: In this section there is an on-line platform where you can share ideas with other young entrepreneurs.
- Certification: Once you have completed the business concept and the technology skills' sections, take a brief survey and obtain a customized certification.
- Next steps: This last section suggests you other related courses and make available other additional resources.
This course is part of a modular programme developed by EDC, internationally recognised expert in online training.
The complete programme focuses on four main topics: funding, marketing, management and communication. The learner can choose the lessons depending on their level. They will also access advice, online conferences and business-related information that can be useful to them.

Name of Producer
HP LIFE (Learning initiative for entrepreneurs). Free online course

Date of Production:
2015

Duration of the online course:
2 - 4 hours

Language of the online course:
English
French
Spanish

Web site: