Aptitude Tests

These tests measure the aptitudes of the students.

These tests, identified and reviewed by the project experts, should be used by teachers and school counsellors to support students in the identification of their aptitudes.
In this context an aptitude can be defined as a component of a competency to do a certain kind of work at a certain level, which can also be considered "talent". Aptitudes may be physical or mental. Aptitude is not developed knowledge, understanding, learned or acquired abilities (skills) or attitude. The innate nature of aptitude is in contrast to achievement, which represents knowledge or ability that is gained through learning.
Back to the Aptitude Tests List

Title of Test:
Test psicotécnico: Actividad administrativa

Image: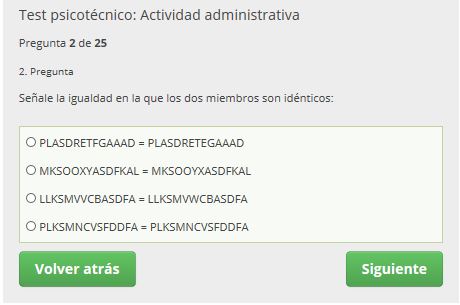 Type of test:
Clerical

Website of the Test

Language/s of the tool:
Spanish

Description:
The test consists of 25 questions related to diverse administrative tasks such as attention to detail in series of numbers, letters and words, or alphabetical order of words. The test is timed but only as indicative information. At the end of the test, the result is given as a percentage of correct answers.

Tags or Key Words:
Psycotechnical administrative

Translation of the test:

Partners' Institution:
Confederación de Empresarios de Aragón (CREA)