Aptitude Tests

These tests measure the aptitudes of the students.

These tests, identified and reviewed by the project experts, should be used by teachers and school counsellors to support students in the identification of their aptitudes.
In this context an aptitude can be defined as a component of a competency to do a certain kind of work at a certain level, which can also be considered "talent". Aptitudes may be physical or mental. Aptitude is not developed knowledge, understanding, learned or acquired abilities (skills) or attitude. The innate nature of aptitude is in contrast to achievement, which represents knowledge or ability that is gained through learning.
Back to the Aptitude Tests List

Title of Test:
Ttests for Administrator and Assistant levels

Image: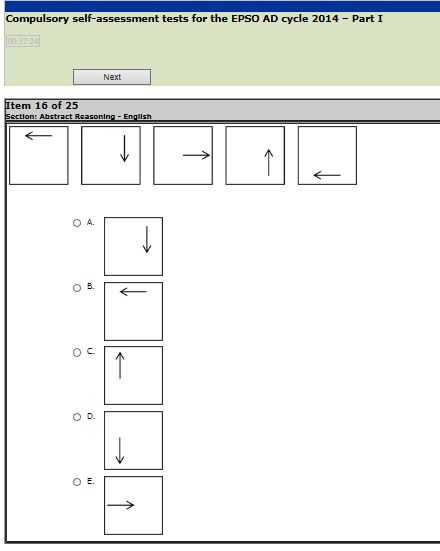 Type of test:
Diagrammatic dexterity

Website of the Test

Name of Author(s):
EPSO (European Personnel Selection Office)

Date of Production:
2009-2010

Language/s of the tool:
English
French
Italian
Lithuanian
Romanian
Spanish

Description:
The test consists of three sections. The one analysed in this case is the third one:

Abstract reasoning (10 questions)

This test uses diagrammatic information to assess the inductive reasoning ability. Each question consists of a series of diagrams that follow a logical sequence or contain a set of underlying rules. The series reads from left to right. The task is to choose the next diagram in the series from the 5 possible answers. There is only one correct answer to each question.
The passing score for this section is 50% and the results appear at the conclusion of the test.

It is timed with 11 minutes.

Tags or Key Words:
EPSO abstract

Translation of the test:

Partners' Institution:
Confederación de Empresarios de Aragón (CREA)