Skills Tests

These tests assess the students' skills.

These tests, identified and reviewed by the project experts, should be used by teachers and school counsellors to support students in the identification of their skills.
A skill is a learned ability to carry out a task.

Title of Test:
What profession should you do ?

Image: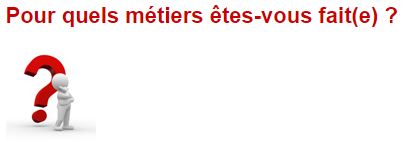 Skills Addressed:
Interpersonal and civic competences
Entrepreneurship
Cultural expression

Website of the Test

Name of Author(s):
Onisep

Language/s of the tool:
French

Description:
This test is a support for orientation tool. It identifies for what job the student should do, by asking questions about his personality, preferences or behavioures.

Tags or Key Words:
career profiles

Translation of the test:

Partners' Institution:
RENASUP