Associated Partners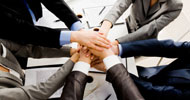 As a result of the exploitation activity a number of associated partners officially joined the project in order to contribute to the improvement of the project impact on their target groups and to ensure the project sustainability by continuing using the project deliverables in the next years.

The associate partners of the School&Work project are organizations interested in the prevention of early school leaving. All associated partners share the project objectives and are willing to contribute to their achievement.

Institutions and organisations interested in becoming associated partners of the School&Work project can contact the national coordinators of the project.
Back to the Associated Partners
NAME OF THE ORGANISATION
Secrétariat général de l'Enseignement catholique
TYPE OF INSTITUTION
No Profit Association
ADDRESS
277, Rue Saint-Jacques
NAME OF CONTACT PERSON
Claude Berruer
BRIEF DESCRIPTION OF THE ORGANISATION
National structure, which animates and coordinates French Catholic teaching schools.
HOW THE ORGANISATION WILL CONTRIBUTE TO THE DISSEMINATION AND EXPLOITATION OF THE PROJECT RESULTS
- Dissemination activities, in particular through the website and their network.
- One of the most fundamental duties of the General Secretary is to communicate information regarding best practices of prevention of early school leaving.