Associated Partners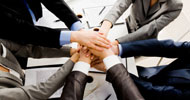 As a result of the exploitation activity a number of associated partners officially joined the project in order to contribute to the improvement of the project impact on their target groups and to ensure the project sustainability by continuing using the project deliverables in the next years.

The associate partners of the School&Work project are organizations interested in the prevention of early school leaving. All associated partners share the project objectives and are willing to contribute to their achievement.

Institutions and organisations interested in becoming associated partners of the School&Work project can contact the national coordinators of the project.
Back to the Associated Partners
NAME OF THE ORGANISATION
HENALLUX Seraing
TYPE OF INSTITUTION
Higher Education Institution
ADDRESS
Rue de la Carrière 20 – 4100 Seraing
NAME OF CONTACT PERSON
Jean-Marc Delbovier
BRIEF DESCRIPTION OF THE ORGANISATION
Large industrial municipality near Liège, Seraing has been seen all over the world: indeed, people forget it but it is the place where the Dardenne brothers shoot most of their films. The paradox of Seraing is to be a large industrial area and a large green area.
The proximity to Liège is also an asset for students: for cultural reasons (many cinemas, theatres, museums, libraries…), public transport and of course the joys of student life in Liège.
The section "Baccalaureate in Electromechanics" of Seraing (about 300 students and 25 teachers) organises a short training that provides a Baccalaureate qualification (short higher education):
- The electromechanics baccalaureate (specialisation: maintenance) plays a fundamental role of intermediary between engineers and performing agents.
- The electromechanics baccalaureate (specialisation: maintenance) possesses indispensable skills to implement, exploit and maintain processes, devices and electric and mechanical machines. He is an indispensable partner of the company thanks to his polyvalence, his adaptation ability and his autonomy.
HOW THE ORGANISATION WILL CONTRIBUTE TO THE DISSEMINATION AND EXPLOITATION OF THE PROJECT RESULTS
Participation in the working group.
Evaluation of the portal and the tools.
Dissemination and promotion to secondary schools in contact with us.
HENALLUX Seraing can promote the project among its teachers and students and through its website.