Associated Partners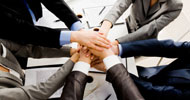 As a result of the exploitation activity a number of associated partners officially joined the project in order to contribute to the improvement of the project impact on their target groups and to ensure the project sustainability by continuing using the project deliverables in the next years.

The associate partners of the School&Work project are organizations interested in the prevention of early school leaving. All associated partners share the project objectives and are willing to contribute to their achievement.

Institutions and organisations interested in becoming associated partners of the School&Work project can contact the national coordinators of the project.
Back to the Associated Partners
NAME OF THE ORGANISATION
Ministry of Environment of the Republic of Lithuania
TYPE OF INSTITUTION
Public Authority
ADDRESS
str. Jaksto 4, LT- 01105
NAME OF CONTACT PERSON
Vilma Karosienė
BRIEF DESCRIPTION OF THE ORGANISATION
The Ministry of Environment of the Republic of Lithuania is the main managing authority in Lithuania which forms policy of environmental protection, forestry, utilization of natural resources, geology amd hydrometereology, territorial planning, construction, provision of residents without housing and coordinates its implementation.
HOW THE ORGANISATION WILL CONTRIBUTE TO THE DISSEMINATION AND EXPLOITATION OF THE PROJECT RESULTS
The ministry of Environment will contribute to the dissemination, exploitation and sustainability of the project uploading information about project activities on the website
http://www.am.lt
, inviting the University of educational sciences and school teachers to participate in the conferences and other events ( discussions, prject planning)
organized by the Ministry.