Associated Partners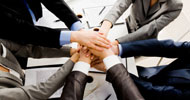 As a result of the exploitation activity a number of associated partners officially joined the project in order to contribute to the improvement of the project impact on their target groups and to ensure the project sustainability by continuing using the project deliverables in the next years.

The associate partners of the School&Work project are organizations interested in the prevention of early school leaving. All associated partners share the project objectives and are willing to contribute to their achievement.

Institutions and organisations interested in becoming associated partners of the School&Work project can contact the national coordinators of the project.
Back to the Associated Partners
NAME OF THE ORGANISATION
Associazione L'Altra Città
TYPE OF INSTITUTION
No Profit Association
ADDRESS
Via Vittorio Alfieri, 5a
WEB SITE
www.laltracitta.it
NAME OF CONTACT PERSON
Andrea Caldelli
BRIEF DESCRIPTION OF THE ORGANISATION
L'Altra Città is a non profit organization composed by charities, cooperative and a foundation involved in disease prevention of different kind (poverty, drug addiction, disabled people placement, refugees and migrants hospitality).
L'Altra Città provides vocational and educational training about several economic sectors and professional profiles (social jobs, education and so on).
L'Altra Città is also focused on school; on one hand it provides classes addressed to teachers in order to reinforce their skills in teaching and dealing with their students. Examples of these classes are as follows: teaching approach and teaching programmes by skills; intercultural themes; inclusion of disabled students; school and work as a teaching approach, prevention of early school leaving. On the other hand L'Altra Città provides workshops addressed to students in order to strengthen their awareness and the knowledge of their skills, so that they can choose their future. This commitment to young people guidance has been developed thanks to R&D area, through studies, researchers and partnerships with universities and other Italian agencies.
L'Altra Città has a staff composed by 8 people working on different area and of several volunteers involved in people caring.
HOW THE ORGANISATION WILL CONTRIBUTE TO THE DISSEMINATION AND EXPLOITATION OF THE PROJECT RESULTS
L'Altra Città has its own website and a presence on the main social media, with a considerable number of followers. Every month, at minimum, a newsletter is produced and sent to over 4,000 addresses, many of them owning to teachers.
Moreover l'Altra Città plans activities for young people, aged 14-18 years, to prevent early school leaving and to guide in different phases of their life, especially when they have to cope with choices to do or career to go through. In all these circumstances products realized in School&Work project, could be useful.