Associated Partners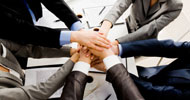 As a result of the exploitation activity a number of associated partners officially joined the project in order to contribute to the improvement of the project impact on their target groups and to ensure the project sustainability by continuing using the project deliverables in the next years.

The associate partners of the School&Work project are organizations interested in the prevention of early school leaving. All associated partners share the project objectives and are willing to contribute to their achievement.

Institutions and organisations interested in becoming associated partners of the School&Work project can contact the national coordinators of the project.
Back to the Associated Partners
NAME OF THE ORGANISATION
Official Chamber of Commerce, Industry, Services and Navigation of Valencia
TYPE OF INSTITUTION
Public Authority
NAME OF CONTACT PERSON
Mr. Vicente Mompó
BRIEF DESCRIPTION OF THE ORGANISATION
The Official Chamber of Commerce, Industry, Services and Navigation of Valencia is a public law corporation that represents, promotes and defends business interests in the province of Valencia.

The Chamber has the following main functions: providing services to the SMEs (external trade, internal market, tourism, transports, cooperation, etc); training of businessmen, improving the relationship between the enterprises and the local administration; promoting and supporting the business internationalisation; coordinating these activities at a regional level.
HOW THE ORGANISATION WILL CONTRIBUTE TO THE DISSEMINATION AND EXPLOITATION OF THE PROJECT RESULTS
The Chamber of Commerce of Valencia will contribute to the dissemination and exploitation of Project results among their clients and partners throught their website as well as in training and advising activities (seminars, workshops, training courses, etc.) addressed to companies and entrepreneurs.