Associated Partners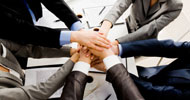 As a result of the exploitation activity a number of associated partners officially joined the project in order to contribute to the improvement of the project impact on their target groups and to ensure the project sustainability by continuing using the project deliverables in the next years.

The associate partners of the School&Work project are organizations interested in the prevention of early school leaving. All associated partners share the project objectives and are willing to contribute to their achievement.

Institutions and organisations interested in becoming associated partners of the School&Work project can contact the national coordinators of the project.
Back to the Associated Partners
NAME OF THE ORGANISATION
Lithuanian Association of Hotels and Restaurants
TYPE OF INSTITUTION
Professional Association
NAME OF CONTACT PERSON
Egle Lizaityte
BRIEF DESCRIPTION OF THE ORGANISATION
The association represents hospitality business enterprises in Lithuania with capacity of 320 hotels, restaurants, educational institutions as well as sector partner enterprises.
LHRA represents its members in the Lithuanian Tourism board, Lithuanian Council for Copyright and Related rights.The association has been full member of HOTREC since 1 May, 2003.
HOW THE ORGANISATION WILL CONTRIBUTE TO THE DISSEMINATION AND EXPLOITATION OF THE PROJECT RESULTS
The Association declares its commitment to disseminate and exploit the project activities and intellectual outputs during the annual meetings and conferences, on the website www.lvra.lt, facebook link as well as in monthly newsletters.