Associated Partners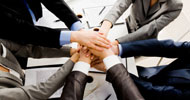 As a result of the exploitation activity a number of associated partners officially joined the project in order to contribute to the improvement of the project impact on their target groups and to ensure the project sustainability by continuing using the project deliverables in the next years.

The associate partners of the School&Work project are organizations interested in the prevention of early school leaving. All associated partners share the project objectives and are willing to contribute to their achievement.

Institutions and organisations interested in becoming associated partners of the School&Work project can contact the national coordinators of the project.
Back to the Associated Partners
NAME OF THE ORGANISATION
Forma Camera
TYPE OF INSTITUTION
Training Agency
ADDRESS
Via Capitan Bavastro, 116
NAME OF CONTACT PERSON
Delia Petacchi
BRIEF DESCRIPTION OF THE ORGANISATION
FORMA CAMERA is the designated training agency of the Rome Chamber of Commerce and acts in compliance with its institutional mandate given by the Chamber of Commerce itself.
Its main activities are research, consultancy, development and management of training activities, which further its business members' interests and encourages business and economic growth in the region.
Typical assignments include delivery of tailored training and support services for the following fields of expertise: SME development and entrepreneurship development; adult learning and links with the labour market; training needs assessment and human resource development through innovative training programmes for owners, managers, consultants, and jobseekers and formulation and delivery of tailored training initiatives for meeting the skills demand in growing sectors.
FORMA CAMERA works actively with national, and foreign institutions, universities and research centres, local and regional authorities, social partners and business associations, companies of different size.
FORMA CAMERA is certified ISO 9001:2000.
HOW THE ORGANISATION WILL CONTRIBUTE TO THE DISSEMINATION AND EXPLOITATION OF THE PROJECT RESULTS
This organisation will contribute to the dissemination of the project through its own dissemination channels.