Associated Partners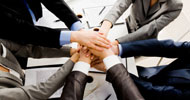 As a result of the exploitation activity a number of associated partners officially joined the project in order to contribute to the improvement of the project impact on their target groups and to ensure the project sustainability by continuing using the project deliverables in the next years.

The associate partners of the School&Work project are organizations interested in the prevention of early school leaving. All associated partners share the project objectives and are willing to contribute to their achievement.

Institutions and organisations interested in becoming associated partners of the School&Work project can contact the national coordinators of the project.
Back to the Associated Partners
NAME OF THE ORGANISATION
CREC
TYPE OF INSTITUTION
Organization
ADDRESS
76 rue des Saints-Pères
WEB SITE
www.quel-campus.com
NAME OF CONTACT PERSON
Vincent Porteret
BRIEF DESCRIPTION OF THE ORGANISATION
CREC is a strategic thinking committee for the Catholic education in the Ile-de-France region. It works on topics linked with trainings and apprenticeship, in 150 high schools (70 000 pupils from high schools and 13 000 students)
HOW THE ORGANISATION WILL CONTRIBUTE TO THE DISSEMINATION AND EXPLOITATION OF THE PROJECT RESULTS
The organization will contribute to the dissemination and exploitation via newsletters, during meetings with school directors and members of its work team.