Associated Partners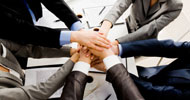 As a result of the exploitation activity a number of associated partners officially joined the project in order to contribute to the improvement of the project impact on their target groups and to ensure the project sustainability by continuing using the project deliverables in the next years.

The associate partners of the School&Work project are organizations interested in the prevention of early school leaving. All associated partners share the project objectives and are willing to contribute to their achievement.

Institutions and organisations interested in becoming associated partners of the School&Work project can contact the national coordinators of the project.
Back to the Associated Partners
NAME OF THE ORGANISATION
Fondation pour l'Enseignement
TYPE OF INSTITUTION
No Profit Association
WEB SITE
www.fondation-enseignerment.be
NAME OF CONTACT PERSON
Olivier Remels
BRIEF DESCRIPTION OF THE ORGANISATION
"Fondation pour l'Enseignement" is a major meeting point between schools and enterprises. It contributes to improving the quality and fairness of education through original, concrete and pragmatic projects with field professionals (school organisation, headteachers, teachers, students) and through analysis and concrete proposals, resulting from a constant dialogue between federations of school organisations and enterprises. Leaving aside stereotypes, "Fondation pour l'Enseignement" disseminates good practices within networks, in order to generate more efficient approaches on a large scale. It promotes students and their integration in professional life, in particular in vocational education.
HOW THE ORGANISATION WILL CONTRIBUTE TO THE DISSEMINATION AND EXPLOITATION OF THE PROJECT RESULTS
Information on jobs, among other for teachers, to support a positive guidance, is one of our missions; we develop projects in this area associating stakeholders from enterprises, education and associations, beside the regular dissemination of information through our information channels to enhance existing initiatives.