Associated Partners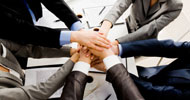 As a result of the exploitation activity a number of associated partners officially joined the project in order to contribute to the improvement of the project impact on their target groups and to ensure the project sustainability by continuing using the project deliverables in the next years.

The associate partners of the School&Work project are organizations interested in the prevention of early school leaving. All associated partners share the project objectives and are willing to contribute to their achievement.

Institutions and organisations interested in becoming associated partners of the School&Work project can contact the national coordinators of the project.
Back to the Associated Partners
NAME OF THE ORGANISATION
Istituto Professionale di Stato Marconi
TYPE OF INSTITUTION
Upper Secondary School
ADDRESS
Via Galcianese 20
NAME OF CONTACT PERSON
Daniele Santagati
BRIEF DESCRIPTION OF THE ORGANISATION
IPSIA Marconi is a vocational school, working in the urban area of Prato, a multiethnic town. IPSIA Marconi offers different courses in the mechanical and electronic sectors. Students can have an European qualification alter 3 years, and a Diploma at the enti of 5 years courses. The vocational school has a special attention to connection between school and works, with experiences of stage.
HOW THE ORGANISATION WILL CONTRIBUTE TO THE DISSEMINATION AND EXPLOITATION OF THE PROJECT RESULTS
IPSIA Marconi will contribute to dissemination and exploitation of the project results in its website, and with the diffusion of Portai products, brochure and ali other events during the Project itself.