Associated Partners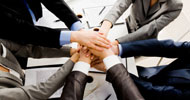 As a result of the exploitation activity a number of associated partners officially joined the project in order to contribute to the improvement of the project impact on their target groups and to ensure the project sustainability by continuing using the project deliverables in the next years.

The associate partners of the School&Work project are organizations interested in the prevention of early school leaving. All associated partners share the project objectives and are willing to contribute to their achievement.

Institutions and organisations interested in becoming associated partners of the School&Work project can contact the national coordinators of the project.
Back to the Associated Partners
NAME OF THE ORGANISATION
Asociación Aragonesa de Psicopedagogía
TYPE OF INSTITUTION
No Profit Association
ADDRESS
Plaza Roma, 1, 50010 Zaragoza
NAME OF CONTACT PERSON
Silvia Oria Roy
BRIEF DESCRIPTION OF THE ORGANISATION
This is a non-profit association of professionals, students and academics in the fields of Psychology, Pedagogy, Psychopedagogy and Education at large. Its aim is to be used as a meeting point to develop initiatives and discuss and interchange information in the related fields, help to enter the work market to associated members, investigate in educational topics, give advice in the above-mentioned fields and organize training sessions.
HOW THE ORGANISATION WILL CONTRIBUTE TO THE DISSEMINATION AND EXPLOITATION OF THE PROJECT RESULTS
The association is going to participate by giving advice and checking the productions of the project. They will also test them with the students they work with, and disseminate the achievements and productions made by the School & Work partners.