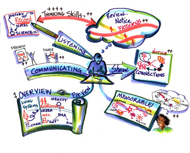 This module focuses on how to unveil the interests and aptitudes of students, in order to plan and implement personalized educational paths and guidance services to valorise these talents through curricular and extracurricular activities and motivate the students to stay at school.
Capitalise on pupils interests and skills

Chapter 3: Teaching methods to capitalize on students' interests and skills
Optional classes + Online Resources
For the past two decades, the educational systems in European countries have gone through important changes, especially in curriculum policy. In contrast to procedures governing the compulsory curriculum, schools have greater freedom when it comes to determining the curricula of optional subjects. These subjects (or course elements not included in compulsory education) have to be incorporated in the teaching programme (and should not exceed a certain threshold expressed as a percentage of compulsory provision). It is the teachers responsible for optional subjects who determine the content of the curriculum with the approval of the teachers' council. Schools must offer a balanced and broadly based curriculum that meets the needs of all their pupils and their community . Approximately 30% of the curriculum should be devised by schools according to students' interests and local needs. Each school should offer a range of optional classes from among which students can choose. The trend towards greater curricular autonomy has been more recent. In some types of system, this approach to school organisation is viewed as a powerful factor in improving the quality of teaching and learning, whereas in very decentralised systems it is regarded as a potential risk liable to prevent the priority goals of educational effectiveness and equality from being achieved.
Online Resources


Comments on this section
In order to post a comment it is compulsory to be logged in.
Date: 2016.09.02
Posted by Christine CLOES - Belgique
The strength of this module is to gather (and remind) important theoretical principles (as learning styles, multiple intelligences…) and practical advice to cultivate the students' talents and interests,for example planning extracurricular activities, developing entrepreneurial experiences at school, etc.
Date: 2016.08.03
Posted by M.J. Romero - Spain
Interesting collection of online sources. Very complete and with different approaches.
Date: 2016.07.10
Posted by Liliana Cannone - Italy
The most interesting and functional section for the type of students F.Datini IPS is the "SKILL & JOBS", to deepen the profile of the professionals and the levels of skills within the school.
Furthermore, the analysis of the job profiles of the different countries involved in the project highlights the actual demand in the labor market. It would be useful to have in the Italian language test to use them in school with our students. The clearly structured site, has a dress simple and straightforward graphics, and is quite simple to find the inserted content

Date: 2016.07.07
Posted by Rouquette-Salerno Laetitia - France
The modules are really interesting and relevant
Date: 2016.07.06
Posted by Cristina Farzi - Romania
The module focuses on how to unveil the interests and aptitudes of students in order to plan and implement personalized educational paths and guidance services which successfully valorise students' talents. As balancing theory and practice is one of the principles of this tool the second module starts from theoretical considerations on interests, aptitudes and key competences as well as school autonomy and learning styles, which are practically supported by useful hands-on curricular and extracurricular activities, teaching methods used to capitalize on students' interests and skills and an impressive collection of best practices, experiences, success stories as well as tips on how to use them in class. The chapter also highlights the important of parent involvement in children's development and success at school and in life.

Date: 2016.07.06
Posted by Elza Gheorghiu - Romania
The modules provide teachers and counsellors with invaluable online materials which can help them with:
- a conceptual and theoretical framework
- tools/ techniques to use
- activities to carry out
- examples of best practice
- case studies