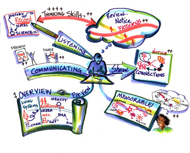 This module focuses on how to unveil the interests and aptitudes of students, in order to plan and implement personalized educational paths and guidance services to valorise these talents through curricular and extracurricular activities and motivate the students to stay at school.
Capitalise on pupils interests and skills

Chapter 3: Teaching methods to capitalize on students' interests and skills
How to help students use their learning styles effectively + Online Resources
By finding out a student preferred learning style teachers will be able to identify possible challenges for a student on their particular course or courses. For instance, evidence suggests that students attracted to vocational courses are more likely to have a kinaesthetic preferred learning style. Many students enjoy the practical element of a vocational course but find the theory part of the course quite challenging. This can be when inappropriate behaviour can emerge. One of the reasons for this is that theory tends to be taught in a visual and auditory way and therefore the kinaesthetic learner finds it even more of a challenge than the other learners. It stands to reason that visual and auditory learners will encounter the same problems if their teacher's schemes of work and lesson plans address kinaesthetic learners. They should be told what strategies to use in order to enhance their personal approach of learning. Thus, visuals should be advised to use lots of post-its, posters, cue cards, diagrams and charts, place information, key words and posters, above eye-level in the room, use coloured pens and paper, use mind maps and spider diagrams. On the other hand, auditory learners can make the most of their efforts by engage in class discussion, using poems, rhyme, rhythm, rap and jingles, reading passages or questions out loud, having background music on while studying.
Online Resources


Comments on this section
In order to post a comment it is compulsory to be logged in.
Date: 2016.09.02
Posted by Christine CLOES - Belgique
The strength of this module is to gather (and remind) important theoretical principles (as learning styles, multiple intelligences…) and practical advice to cultivate the students' talents and interests,for example planning extracurricular activities, developing entrepreneurial experiences at school, etc.
Date: 2016.08.03
Posted by M.J. Romero - Spain
Interesting collection of online sources. Very complete and with different approaches.
Date: 2016.07.10
Posted by Liliana Cannone - Italy
The most interesting and functional section for the type of students F.Datini IPS is the "SKILL & JOBS", to deepen the profile of the professionals and the levels of skills within the school.
Furthermore, the analysis of the job profiles of the different countries involved in the project highlights the actual demand in the labor market. It would be useful to have in the Italian language test to use them in school with our students. The clearly structured site, has a dress simple and straightforward graphics, and is quite simple to find the inserted content

Date: 2016.07.07
Posted by Rouquette-Salerno Laetitia - France
The modules are really interesting and relevant
Date: 2016.07.06
Posted by Cristina Farzi - Romania
The module focuses on how to unveil the interests and aptitudes of students in order to plan and implement personalized educational paths and guidance services which successfully valorise students' talents. As balancing theory and practice is one of the principles of this tool the second module starts from theoretical considerations on interests, aptitudes and key competences as well as school autonomy and learning styles, which are practically supported by useful hands-on curricular and extracurricular activities, teaching methods used to capitalize on students' interests and skills and an impressive collection of best practices, experiences, success stories as well as tips on how to use them in class. The chapter also highlights the important of parent involvement in children's development and success at school and in life.

Date: 2016.07.06
Posted by Elza Gheorghiu - Romania
The modules provide teachers and counsellors with invaluable online materials which can help them with:
- a conceptual and theoretical framework
- tools/ techniques to use
- activities to carry out
- examples of best practice
- case studies